Linking up with Jen over at Conversion Diary. Head over there for other awesome bloggers' quick take round ups.
1. Jeremy and I discovered Parry Gripp several months ago and we just love some of his music. Imagine my surprise when I heard this song on the radio today:
I have no idea why this song was on the radio. But I am eternally grateful. "This party has like five different kinds of nachos!"
2. Speaking of Parry Gripp, I am reminded of how much I love this song:
I love this song so much that I listened to it over and over and transcribed the lyrics and chord changes. Then I had to transpose to a different key so it would fit in my voice range better. I can totally play this song on piano.
3. I'm going to make mohitos later this evening after Jeremy gets home from work. I was going to make mohitos yesterday; I even made some simple syrup and bought some mint at the grocery store. Then I couldn't remember the exact proportions so I looked up a recipe. Mohitos require fresh lime. Oh snap. So I hung my head and resolved to buy limes today so I can have mohito tonight.
4. I think I mentioned last week how much I love me some coffee.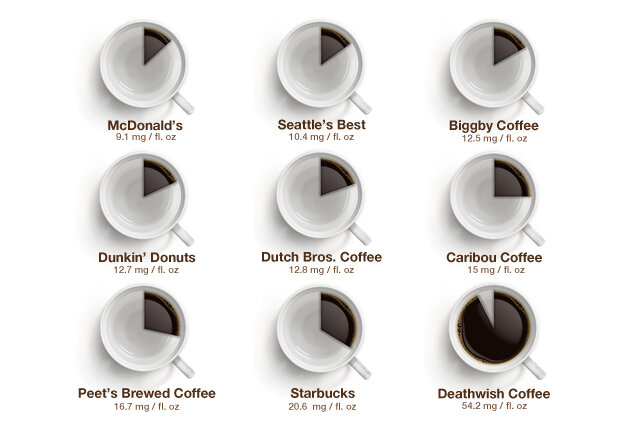 Remind me to never waste my time on that McDonald's swill. btw, I wonder where my home recipe for coffee falls in that chart?
5. Stephen is a genius. He knows colors and shapes. He still sometimes mixes up blue and green, but he reliably knows red, yellow, purple, orange, and pink. He also can point out stars, triangles, squares, circles, and hearts. He can also ask politely for things, as in, "more pizza please." Sniff. Tear. My baby boy.
6. Tonight I get to insert a new n/g tube for Agnes. My first one at home, with no medical staff supervision. I'm pretty excited to see if I remember how to do it right. I was hoping the tube would last until tomorrow so she would have a fresh one for church on Sunday, but she threw up all over her face this evening, and if that little piece of tape that holds it in place gets wet, it loses its sticky. So, here we go!
7. Today Jeremy and I prayed our family rosary. We used to pray a rosary every morning with our coffee in hand, and Stephen "praying" along with his own set of beads. But ever since Agnes was born, we've kind of forgotten about this routine. I think you know why. I really want to get back into praying a daily rosary as a family. I'm glad we did it this morning. I hope we can remember to do it tomorrow, and Sunday, and every day after that!
Thanks for reading!
---